The Chianti region of Tuscany and the Chianti wines produced there are famous throughout the world. But what does the word "chiantigiani" mean? The most common use of the word chiantigiani is to refer to the people of Chianti, and we will have a lot to say about these friendly country folk on this website. Chianti is basically a rural area with only five towns of any size although there are innumerable villages and hamlets dotted among the Chianti vineyards, olive groves and forests. Country life world-wide is regulated by the seasons and no more so than here in Chianti. During late December through early February, and sometimes later, we have snow in the hills and often in the valleys as well. And yet there are more than 40 species of orchid growing in Tuscany. In August, it can be hot and humid in the valleys and sometimes even higher up in the hills. Between these extremes, grapes and other crops have to be planted, cultivated and harvested. Grapes have to be turned into wine, oil squeezed out of olives. Trees pruned, firewood cut, game hunted. Numerous other unusual agricultural strains are cultivated in Chianti, among them saffron and also irises, the rhizome being dried and used as a base in perfumery and many brands of gin. Silk worm cultivation continued here until the early fifties and the mulberry trees are still a common sight. Most of these seasonal transitions are marked by a Tuscan festival of some kind, especially in the immediate post-harvest period. Other festivals mark important dates in the Christian calendar or date from pagan times (May and mid-August ferragosto festivals in particular).

Almost every aspect of the life of the chiantigiani can be shared by visitors spending a few days or weeks here. All you need is information and that's what we aim to provide you with here and on our other Chianti websites. With these insights, we are sure that your vacation in Chianti will be greatly enriched and that you will make lots of new friends. Read on!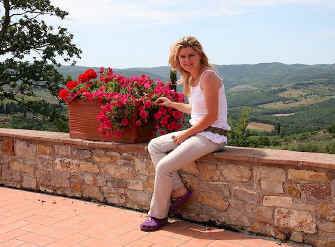 A modern young chiantigiana, owner and manager of a Chianti winery and agriturismo near Panzano in Chianti.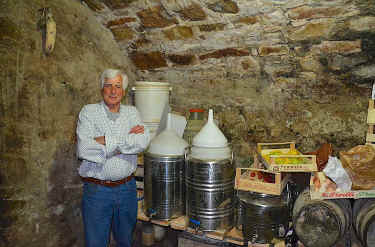 A chiantigiano born and bred, ready to fill some olive oil bottles in his ancient cantina (cellar) at Montefioralle.